Bakurocho - Asakusabashi

The Bakurocho neighborhood southeast of Akihabara is an essential stop on any contemporary-art tour of Tokyo. While Roppongi has a number of major international galleries, Bakurocho is more geared towards small independent galleries, which have gathered here to take advantage of the cheaper rents and the accessible location.

As befits an up-and-coming creative neighborhood, Bakurocho is also home to art-supply shops, crafts galleries, coworking spaces, hip cafes, serious coffeehouses and craft-beer bars.

Here is our guide to some of the area highlights, including the Asakusabashi neighborhood just to the north.
Touring the galleries

Bakurocho's galleries are close enough together that you can hop from one to another efficiently, without worrying too much about whether any particular gallery might be closed between shows, although you can always check individual gallery websites for show dates if you wish.

All galleries are closed on Mondays and most are closed on Sundays and holidays, so Saturday afternoons are the best time to catch the artists in person, while Wednesday through Friday afternoons are best if you want the galleries to yourself. Most galleries stay open until 6 or 7pm.

Admission to the galleries is free of charge; just politely greet the staff when you enter. Most are very small, so you can stop in for five or ten minutes and then move on to the next place.
How to get there

The main stations serving the area are Higashi-Nihonbashi station on the Asakusa line, Bakuro-yokoyama station on the Toei-Shinjuku line, and Bakurocho station on the JR Sobu rapid line (connecting Tokyo station with Chiba). These three stations are all connected underground.

Alternatively if you want to start in Asakusabashi and tour the galleries in reverse order, Asakusabashi station serves the Asakusa line and the JR Sobu-Chuo line (running between Akihabara and Ryogoku).
1. New talents and guest curators at
Alpha M
Run by Musashino Art University, this non-profit gallery is a place for guest curators to introduce new artists.
Another gallery with guest curators, Kanzan puts on shows of mostly contemporary photography. In the back gallery you'll find seasonally rotating exhibitions of Picasso's ceramic artwork.
3. American and Japanese contemporary artists at
Koki Arts
One of the goals of this gallery is to introduce contemporary American artists to Japan and vice versa, and they take part in various international art fairs in addition to the regular gallery shows.
Occupying one floor of the newly renovated, art-focused Bakurocactus building, this tiny gallery has one-week shows introducing promising but not yet established local artists.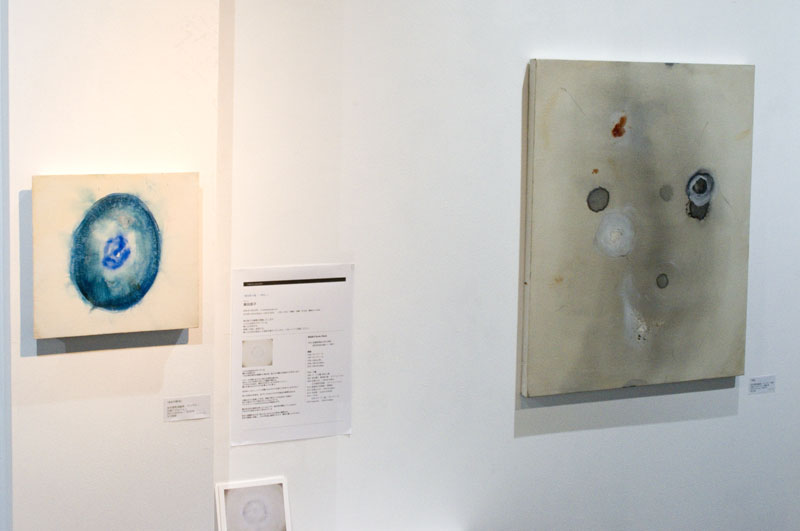 Another small gallery in the Bakurocactus building, Taku Sometani is similarly devoted to promoting up-and-coming artists. You'll often find some of the more affordable contemporary art in the area here and at San-Ai downstairs.
Along with Taro Nasu this is one of the most spacious of the local galleries, and they often hold separate shows on the two gallery levels. They host both solo and group shows of Japanese and international artists.
Since they're located a bit north of the main Bakurocho gallery area you might want to check their website schedule to make sure they're not between shows.
Coffee and lunch break spots
Located inside the multistory Colorworks Palette art supply store, this small stand serves single-bean and blend drip coffee, hot or iced. You can browse through paint catalogs at one of the small tables while you sip your coffee.
You can enjoy your espresso or drip coffee out on the terrace or inside the lobby of the Citan hostel, or get it to go. There are croissants and other pastries as well as sandwiches if you're hungry. (8am-7pm)
9. Afternoon pastries and Yamagata-style lunch plates at
Fukumori
Regional cuisine from Yamagata is the specialty at this stylish cafe-restaurant, and in the afternoons they serve coffee and various desserts. There's an interesting crafts-shop area in the back, and they hold live musical performances and other events some evenings.
Bookshelves full of design and architecture magazines line the walls of this attractive two-story cafe-restaurant. They serve burgers, pastas and Thai noodles at lunchtime, Mediterranean cuisine in the evenings, and coffee and desserts from 3-5pm.
One of Tokyo's many hyper-specialized mini-museums, the compact Stationery Museum doesn't have much in the way of paper products, but they showcase impressive collections of Chinese ink stones, vintage adding machines and calculators, abacuses, fountain pens, letter openers and calligraphy brushes.
Even if you're not a guest here, you can stop by the second-floor reception desk of the "Strange Hotel" to chat with the robot staff members, admire the robot fish swimming robotically around their huge tank, and take selfies.
Once the home of a famous geisha, this traditionally constructed residential building is now home to a pottery gallery, an indoor-outdoor cafe area and a bar.
The gallery isn't open every day, and both the cafe and bar schedules are irregular, but it's worth dropping by if you're nearby to see if anything is going on.
If you've been to the Odaiba waterfront in the evening you may have noticed the dozens of lantern-lit yakatabune party boats gathered out in Tokyo Bay. This is where they live.
If you happen to be in the area in the early evening you can see the festively lit boats as they head out to the Sumida River for their nightly round of dinner and drinking parties.
Run by a veteran of Hopworks Urban Brewery in Portland, Oregon, this lively brewpub has 13 taps dispensing HUB beers and original house brews, guest beers and ciders. The very appetizing food menu features inventive dishes like miso-lotus root pizza, crisp chicken wings with fine-herb dip, and grilled pork with shiitake mushroom relish.
First-rate charcoal-grilled pork on skewers is the specialty at this very casual indoor-outdoor standing bar next to the JR train tracks. Prices are very budget-friendly, and they serve a few decent sake varieties to go with your food. They even have a few folding chairs if you're tired of standing.
You can enjoy sushi topped with tasty morsels of (mostly cooked) wagyu beef, Iberico pork, horsemeat and other meaty delicacies here, along with a nice selection of craft sake. The foie gras nigiri assortment is particularly recommended, as is the house special, a platter of thinly sliced beef short ribs seared with a blow torch at your table.